BBDG Seminars: "Emprender: impulso y dinamización de la ciencia, clave para llegar al paciente"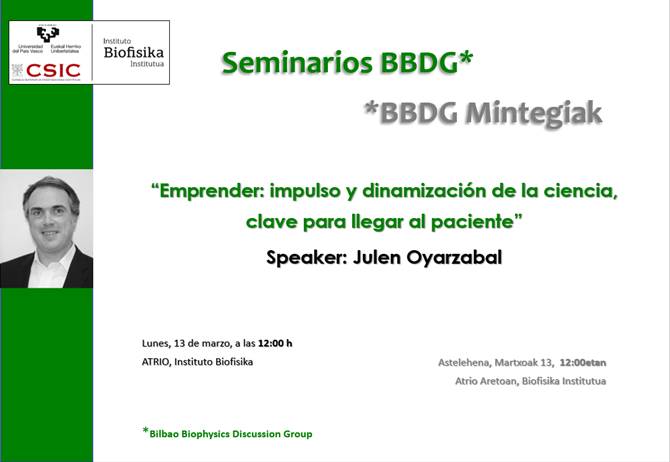 🗓️ March, Mon 13, 2023, 12:00h
📍 Atrium (Instituto Biofisika)
"Emprender: impulso y dinamización de la ciencia, clave para llegar al paciente"
Julen Oyarzabal (COLUMBUS VENTURE PARTNERS)
Dr. Julen Oyarzabal is a partner at Columbus ventures, a Spanish independent venture capital that brings a unique approach for investing in outstanding early-stage and high growth opportunities in the life science industry of Spain. As founders of over 20 companies, including ViralGen, cocoon and Singoi (https://columbusvp.com/portfolio-columbusvp/), Columbus ventures is one of the leading firms in the therapeutics and life science manufacturing in the life sciences sector in the Basque Country and in Spain. Dr. Oyarzabal´s seminar will focus on their strategy, companies and opportunities. This seminar will be specially interesting for young scientists willing to know more about the life sciences industry.
 
Dr. Oyarzabal received a Bachelor in Physical Chemistry and a PhD in Organic and Pharmaceutical Chemistry from the University of the Basque Country (Spain). He began his career as researcher at the University of California San Francisco (UCSF) and later he joined the University of Southampton (UK) where he got an extensive experience in pharmaceutical chemistry and drug design. In 2001, Dr. Oyarzabal joined Johnson & Johnson Pharmaceutical R&D where he led several projects from the molecular design perspective in the CNS therapeutic area. Five years later, he set up and led the Computational Medicinal Chemistry section at the Spanish National Cancer Research Center (CNIO). In 2010, Dr. Oyarzabal joined the Center for Applied Medical Research (CIMA), at the University of Navarra, to set up the small molecule discovery platform and led the Molecular Therapeutics Program. From 2013 to 2018 he was also director of Translational Sciences leading scouting activities, from the University Hospital and CIMA, as well as de-risking drug discovery processes.